BEYOND THE HORIZON
17 May - 27 June, 2010
Solo show, Galleri Svalbard, Longyearbyen, Svalbard
Colour photographs, sound.
BEYOND THE HORIZON (STATE), 2010
It is important to have "something beyond the horizon" which gives the feeling that the world is larger than what is seen.
Space Settlements: A Design Study. Curators: Al Globus and Bryan Yager.
Beyond the Horizon is a project with a strong personal and site-specific connection.
Polar Darkness fascinates and inspires through historical narratives, scientific texts and discoveries. To experience a place where darkness is constant gives the opportunity to challenge and push ones ideas and creativity to the limit.
BEYOND THE HORIZON (9 colour photographs) describes the interpretation of the first physical encounter with a place you formed an opinion about through others' eyes and stories. The work is inspired by the polar darkness and dedications from older travel books / scientific expeditions in the polar regions. With small LEDs flashlights I draw stories in pitch black space. No day, no night - everything is flowing into an intertwined story of loss, anxiety, longing, hope, faith, wonder and love for mankind and a remote location.
The sound piece OUT THERE is recorded at the EISCAT facility at mine 7 and together with the photographic piece OUT THERE (IN THIS WORLD) forms an interpretation of being human in a wide context, with the desire to understand and grasp the world, both physically and mentally. The photographs OUT THERE (IN THIS WORLD) is captured at Svalbard during Feb 2010. Winter came late to the island - unusually late. In January, the ground was bar, then came the rain which froze into ice. The ice lay like a thick crust over the ground. In several layers. Frozen air bubbles, black carbon, soil - was frozen in the ice. Like walking on a thin glass surface with outer space under your feet.
Beyond the Horizon (STATE) puts my own presence in the center and visualize the feeling I experienced to find myself in this constant darkness. As a poetic term aims darkness to evil and unhappiness. To me, darkness is no enemy, but allow for calm and focusing inward. I work with drawing and photography and to combine these two techniques in my artistic expression. I work with sounds that are part of larger installations. I am looking for different contexts in which I explore both in a playful manner but also in a more scientific approach our surroundings, the fascination and obsession with information in relation to the world around us.
The works in the exhibition Beyond the Horizon are from my stay in Svalbard between 2008 - 2010.
Catrin Andersson, 2010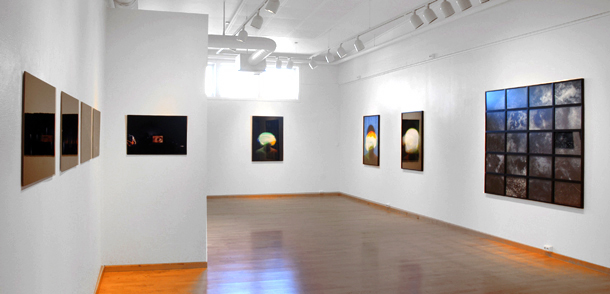 Installation view at Galleri Svalbard in May, 2010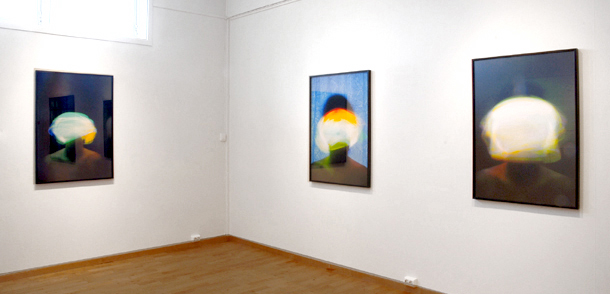 Installation view at Galleri Svalbard in May - BEYOND THE HORIZON (STATE), 2010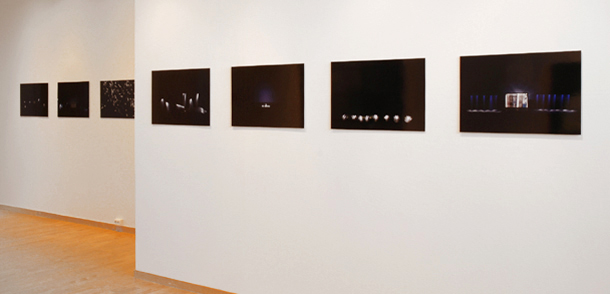 Installation view BEYOND THE HORIZON, 2010 at Gallery Svalbard
In swedish:
BEYOND THE HORIZON är ett projekt med en stark personlig och platsspecifik anknytning. Polarmörkret fascinerar och inspirerar genom historiska berättelser, vetenskapliga texter och upptäckter. Att själv uppleva och befinna sig på en plats där mörkret är konstant dygnet runt ger möjlighet till att utmana och pressa sina idéer och kreativitet till det yttersta.
Fotoverket BEYOND THE HORIZON är tolkningar av det första fysiska mötet med en plats man bildat sig en uppfattning om genom andras ögon och berättelser. Verket hämtar inspiration från polarnattens mörker och dedikationer från äldre reseskildringar/vetenskapliga expeditioner i polarområdena. Med små lysdioder tecknas berättelser fram i becksvart utrymme. Ingen dag ingen natt - allt flyter ihop till en sammanflätad historia om saknad, ångest, längtan, hopp, tro, förundran och kärlek till människan och en avlägsen plats.
Ljudverket OUT THERE är inspelat vid EISCAT anläggningen vid gruva 7 och är tillsammans med fotografierna i verket OUT THERE (IN THIS WORLD) en tolkning av att vara människa i ett stort sammanhang med viljan att förstå och greppa världen, både fysiskt och psykiskt. Fotografierna i OUT THERE (IN THIS WORLD) är tagna på Svalbard under feb 2010. Vintern kom sent till ön - ovanligt sent. Under januari låg marken bar, sedan kom regnet som frös till is. Isen lade sig som en tjock skorpa över marken. I flera lager. Infrusna luftbubblor, svart kol, jord - fastfruset i isen. Som att vandra på en tunn glasyta med yttre rymden under ens fötter.
Fotoverket BEYOND THE HORIZON (STATE) sätter min egna närvaro i centrum och visualiserar känslan jag upplevde av att befinna mig i detta konstanta mörker. Som poetisk term syftar mörker på ondska och nedstämdhet. För mig är mörkret ingen fiende utan ger möjlighet till stillhet och att fokusera inåt. Jag arbetar med teckning och fotografi och att sammanföra dessa två tekniker i mitt konstnärliga uttryck. Jag arbetar med ljud som blir del av större installationer. Jag söker efter olika sammanhang där jag utforskar både på ett lekfullt sätt men även i en mer vetenskaplig inriktning våran omgivning, fascinationen och besattheten av information i förhållande till världen runt omkring oss. Genom att skala av detaljer skapas en tomhet men även en chans till återhämtning. Jag är intresserad av vetenskapens sökande efter svar och enkelhetens avskalade ytor. Verken i utställningen är från mina vistelser på Svalbard mellan 2008 - 2010.
Catrin Andersson, 2010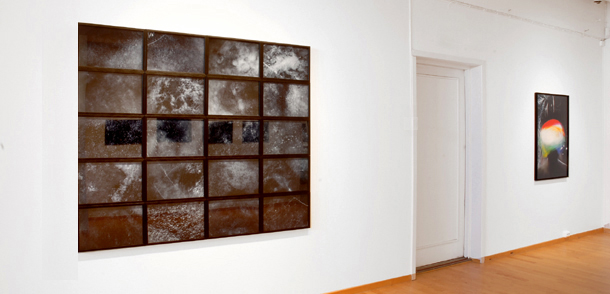 OUT THERE (IN THIS WORLD), 2010 and BEYOND THE HORIZON (STATE), 2010
With support from: